Kipara, the Youngest Mzuguno, Excels with his Family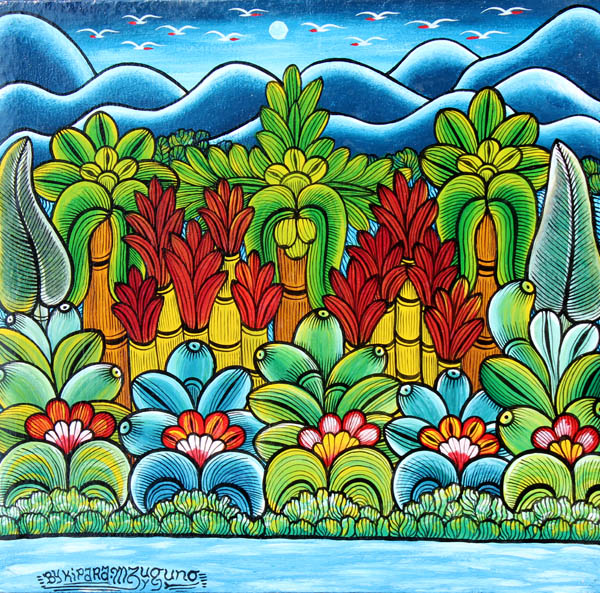 "I have also taught three of my children to do art and hopefully they will carry on with the business when I have left this world," David Mzuguno told this newspaper in March last year at the International School of Uganda (ISU) where he was holding a wildly successful exhibition. In June last year the Tanzanian artist died from lung cancer brought on by the toxic bicycle paints he used to make his art.
Mr Mzuguno can now rest in peace seeing that his wish has been fulfilled, probably faster than he anticipated. On Friday March 18, his four sons held an exhibition at ISU, "The Sons of the Master," selling all their paintings in 30 minutes. There was a tussle as people clamoured for their paintings, standing in front of the pieces to claim them.
Mshana, Juma, Rashid and Kipara Mzuguno, Mr Mzuguno's sons, exhibited about 80 paintings at ISU. Mshana is the eldest at 28, while Kipara, 16, is the youngest. 80 paintings could not meet the demand, however, so they camped at Pascal Bogaert's home, ISU's Visual arts teacher, to complete some of the orders that had been placed at the exhibition.
Mr Bogaert's home in Makindye was host to a steady stream of visitors on Sunday who were coming to see the artists, either after meeting them at ISU or on the recommendation of those who had been at the exhibition. All left after placing orders. The artists will paint in Uganda for two weeks before returning to Tanzania where they will complete the rest of the work.
Like their father before them, Mr. Mzuguno's sons are painters in the colourful Tingatinga School that developed in Tanzania in the late 1960s when Edward Saidi Tingatinga merged Congolese immigrant paintings with the traditional art of the Makua and Makonde people. Tingatinga painted for only four years, dying after an accidental shooting in 1972, but he bequeathed to Tanzania a painting style it can proudly call its own.
A stylised and elaborate art form, Tingatinga paintings are often surreal and usually depict natural objects, usually flowers, animals, savannah vegetation, fruits and plants, and mountains, especially Kilimanjaro.
Although not exactly kitsch, it's commercially-driven and tourist-oriented; a painting can be completed in as little as two weeks. Most painters are usually unaware of contemporary art trends and uneducated—only one of Mr. Mzuguno's sons, Mshana, has a bare grasp of English—but their vibrant, unconventional and affordable paintings have over time established a lucrative niche market.
Mr. Mzuguno's sons are lucky to have grown up with the influence of their father, one of the few Tingatinga painters who was able to develop his own unique style and rise to international acclaim. David Mzuguno, together with Georges Lilanga and Damian Msagula, who both died in 2005, are considered the masters of the style, of course alongside E. S. Tingatinga.
Although they possess the potential of their father, Mr Mzuguno's sons are still budding and the best they can do now is develop their fathers' unique style further.
At Mr Bogaert's home, dotted with paintings from different painters that it could be mistaken for an art gallery, it was impossible not to be impressed with their meticulousness and intricate brush strokes especially considering the pressure they were working under to clear their backlog.
Mr Bogaert, the founder of Real African Art Gallery in Zanzibar, said it's virtually impossible to find any of their paintings on sale in Tanzania; they paint on demand, and those paintings that find their way into galleries are soon bought.
The paintings at the ISU exhibition ranged from Shs120,000 to Shs800,000. Their art is not available in Ugandan galleries but Mr Bogaert, who's very enthusiastic about their work, thinks that's about to change.
He plans to sell their paintings in a gallery he's about to open in Entebbe as well as supply it to other galleries. It's just the beginning for the Mzuguno boys, but one gets the feeling that it couldn't get any better.
Daily Monitor 7 September, 2015