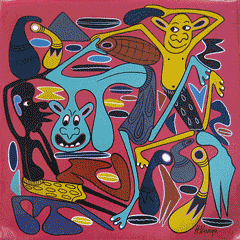 The only artist in Tanzania who has succeeded in developing the Lilanga art further is Hendrick Lilanga, born on 20th October 1974 in Dar es Salaam, the grandson of George Lilanga.
Henrick joined his grandfather in 1993. At that time it was only Noel Kapanda, a Tinga Tinga painter who worked together with George Lilanga. George Lilanga draw sketches and Noel Kapanda painted. George Lilanga now got more and more orders and he needed help.
The first techniques George Lilanga taught Hendrick were goat skin techniques and watercolor. Though George Lilanga sketched for Noel Kapanda who then filled color into the paintings he did not need to sketch for Hendrick. He was creative enough to find new designs and soon he replaced his grandfather and started to sketch for Noel Kapanda. George also developed new techniques. He saw that his grandfather carved calabash and Hendrick ask himself if he could paint on calabash with oil colors. Later he used watercolors to paint on calabash.
Hendrick has also created tales to the paintings and he wrote a story book. He found inspiration in the old Lilanga sketch book and to every sketch he added a story. That book he sold to George Lilanga who has then sold it further to a collector. In 2007 and 2008 he bought an air plane ticket to Austria where he learned the graphic technique of etching. He is one of few artists in Tanzania who has mastered this technique. He surprised his Austrian teachers with new ideas to use the same background on etchings as Tinga Tinga painters use in Tanzania on oil paintings – a sunset background.
Out of fear of competition, the Lilanga´s children Costa and Bernard have denied that Hendrick Lilanga is the grandson of George Lilanga and they have even suggested after their father´s death that Hendrick should stop to use the name Lilanga.
Title: Lilanga 6411
Dimensions: 12″ x 12″ (30 x 30cm)
Medium:  Oil on Canvas
Price: $140
Title: Lilanga 6407
Dimensions: 12″ x 12″ (30 x 30cm)
Medium:  Oil on Canvas
Price: $140
Title: Lilanga 6412
Dimensions: 18″ x 18″ (46 x 46cm)
Medium:  Oil on Canvas
Price: $ 170
Title: Lilanga 6424
Dimensions: 33″ x 39″ (84 x 99cm)
Medium:  Oil on Canvas
Price: $435
If you are interested in any of Henrick Lilanga's paintings, you can Make an Offer by using the Contact Page or by emailing me at: todd@insideafricanart.com. Or, better yet, go to the Purchasing Page to make a purchase!
Learn more about Making an Offer