Born in a small village on the slopes of the Arbedares range called Mioro, in the Muranga District, Simon was inspired to pursue art at an early age by both his parents and teachers. He has enjoyed national as well as international success as a painter with at least 21 exhibitions in the last five years. Recently, his work was part of a three-man, month-long exhibition at the National Museum of Kenya.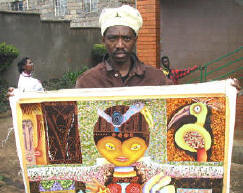 The truth is however, that Muriithi is only thinly attached to the Banana Hill artists. He has his own home/gallery in Kasarani, a town about 10 miles outside of Nairobi town. It's one of these places that is an oasis in the mania of Nairobi. An arched gate designed with welded sculptures leads you into a little paradise designed with blends of color everywhere you look. What at first seems eccentric is muted by the underlying talent that surrounds you – and inside Muriithi's modest home is a small collection of some of the most unique paintings to hit this website. Mixed media paintings incorporating mostly rope, painted to blend in yet add a texture. The oils that Muriithi uses are layered thickly, and the rope gives that paintings an even more topographical feel.
Title: Land Story
Dimensions: 16.5″ x 21″ (42 x 53cm)
Medium: Oil on canvas
Price: $300
Title: Parumbrella
Dimensions: 9″ x11″ (23 x 28cm)
Medium: Oil on canvas
Price: $160
If you are interested in any of Simon Muriithi's paintings, you can Make an Offer by using the Contact Page or by emailing me at: todd@insideafricanart.com. Or, better yet, go to the Purchasing Page to make a purchase!
Learn more about Making an Offer