Chain Muhandi painting career started in when he was a young boy. He took a keen interest in drawing in his early years of school, not knowing that he would take it up as his career later in life. To him it was just a way to amuse himself, but after leaving school he started painting. It was at this time that he realized he had a talent for art and it became his chosen path.
Initially Muhandi worked with batiks, and continued working in this medium until the late 1980's. It was during this time of experimentation that he was exposed to oil painting and quickly realized that his skills were best suited to this adaptable and creative medium.
His paintings are difficult to read, composed mainly of bizarre and distorted characters in various poses that unify the painting's theme. You generally have to look at a Muhandi painting closely to see what's going on, and when you do, you can see that he still hasn't lost his sense of childhood and youthful humor. His paintings not only give you insight into the mind of the artist, but into his childhood and life growing up in Kenya.
Muhandi lays the paint on thick, to a point where they are textural and almost brittle. Somehow this adds to their depth and gives an added dimension to the painting making them even more interesting.
His painting "Bank Watchman" portrays many elements and emotions including the watchful eye of the of the scared watchman (even though it appears he is wielding a large club), the helplessness and wonder of the bank teller (or is it anger at the incompetent watchman?), and the shadiness of the customers who are obviously up to something! It seems trouble is brewing at the bank!
Muhandi has exhibited in several countries, and has held two workshops in Germany on the Contemporary Art of East Africa. He is well known in the Kenya painting circles, and his artwork is now available to you!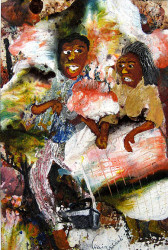 Artist: Chain Muhandi
Title: The Wife
Dimensions: 10″ x 15″ (25 x 38cm)
Medium: Acrylic on paper
Price: $380
If you are interested in Chain Muhandi's painting, you can email me to Make an Offer at: todd@insideafricanart.com. Or, better yet, go to the Purchasing Page to make a purchase!