This biographical information was provided when someone who bought a small Njuguna painting while on safari contacted Njuguna. This is directly from that document (many thanks to Janet in the UK!) :
"Our earliest childhood memories are carried with us and shape our life journeys. Ndichu Njuguna grew up in central highlands of Kenya surrounded by scenic landscapes and greenery. Moving narratives from his mother and observing his dad prepare art lesson schemes for teacher's college where he taught, were his earliest exposure to art.  These childhood scenes have shaped and provided inspiration for his paintings.
He works with a variety of materials to recreate everyday scenes and experiences, lending it true to the feeling that a sunset is never the same. his paintings are inspired by nature , feelings ,music and even to a greater extent beauty of humanity.
Most often the images of Africa are of malnourished children, never ending conflict and misery. Yet for all this, the continent exudes vibrancy and joy. This is the side of Africa Njuguna explores and documents in his paintings.
He mainly works with acrylics ,oils and water colours. In a bid to make use of what is in his environment, He also experiments with recycled materials in plastic and aluminum to create decorative sculptures. This also doubles as an effort to clean up the world of dumping related pollution . His recent effort is in print form, on all the greeting  cards he paints ,urging for pollution reduction.
Njuguna never studied art as profession but he had a chance to take it as a special subject in both primary and high school. These two institutions provided for his initial skills in art. Professionally ,he pursued marketing in college , with a bias in advertising. He was lucky to work for two media houses before leaving the industry in the year 2002. At this time he had only worked for two years when he decided to follow the call of art. .His Initial works were exhibited at Artz gallery in Nairobi late 2003 and he has since sold his paintings world wide. World renown galleries like Amazwi and Dumela based in America have prayed a big role in exposing his work to the world art market. Njuguna is aged 33 today and he is a full time artist based in Nairobi Kenya."  
Njuguna's paintings are an interesting mix of background and foreground – heavy on the illusion of texture as well as a very tactile feel. The red acrylic paint on some of these paintings is literally 'globbed' on, allowing for a true three-dimensional appearance (expand thumbnail detail at above left).
What I find very unique in these paintings is the way Njuguna integrates the patterns in the paper to be part of, if not dictating, the subject of the painting. Similar to Wanyuki in his simplicity, Njuguna is a welcome new talent to the Kenya arts scene.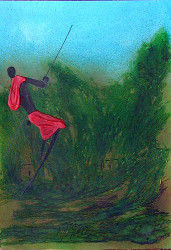 Title: The Vault


Dimensions: 8.5″ x 12″ (21.5 x 30.5cm)
Medium: Acrylic and ink on textured paper
Price: $165
Last One!

If you are interested, Make an Offer by using the Contact Page or by emailing me at: todd@insideafricanart.com. Or, better yet, go to the Purchasing Page to make a purchase!
Learn more about Making an Offer