Daniel Njoroge is acknowledged to be, if not the best, one of the best and most sought-after artists in Kenya today. His paintings fetch high prices and are highly valued by the galleries – especially those that attract tourists who want to not only remember, but take home with them the realism of the animals that they saw on the safaris offered in Kenya. After acquiring such a reputation in East Africa, Njoroge's work is also being sought after in some of the international art circles.
Prior to painting almost exclusively animals, Njoroge painted a variety of realistic scenes of both family life as well as how people of his homeland integrated with the animals that migrated near their farms. The paintings below mostly all depict that time: the time of sharing the land that was also a time of deep observation and study.
Njoroge has two brothers who are both artists and represented on our website. They are Wycliffe Ndwiga and David Michuki. Today it is Njoroge who has refined his skills to the highest level, followed closely by Ndwiga. Njoroge also fetches the highest prices for his paintings. All excel at wildlife painting though Njoroge's maturity allows him to venture into the details of human expression as well. The two new paintings below are an excellent example of Njoroge's study in expression. This must have been his 'head balancing' period.
More…
A Native of Kenya in East Africa, Daniel Njoroge is a leading authority in the region's culture and wildlife art in it's most realistic depiction. While art is his passion, Daniel is a man of some many talent and has served in many capacities: a civil servant with Kenya's Ministry of Education, an automotive engineer, a rally driver, Domestic and wildlife anatomy illustrator with the department of Veterinary Anatomy and Medicine at Kenya's University of Nairobi.
Daniel has been painting professionally for more than 20 years. His initial works were inspired from experience of his childhood upbringing when he lived in Embu, a community of hunters and gatherers who later acquired land and settled at the slopes of Mount Kenya – the only snow capped mountain on the equator! Living with these animals in their natural habitat, Daniel has been able to produce the best known realistic and anatomically accurate depiction on canvas than any other wildlife artist in the sahara. On cultural issues, Daniel says his "aim is to depict the richness of –culture (or lack of it)" as a mirror to a society regardless of the setting. Against the backdrop, Daniel belies this work will inspire greater appreciation for culture diversity and eliminate the "seeming divine" in our societies.
Newspaper reviews and other media has reported very widely on his work across Africa. Many describing him as a "master of polished detail, painting the world in it's true colors", (Westlands weekly, May 18, 1985: The Sunday Times, March 11, 1984).
Most tourists, Art collectors and wildlife safari enthusiasts, coming to Africa from all over the world have always sought Daniel Njoroge's work. Some of this have included Wildlife Conservation organizations like William Holden Foundation. The organisations' President Stephanie Powers is an avid collector of Daniel's work. Locally, Daniel Njoroge's work adorns the walls of Kenya's Presidential State House, National Archives and on many occasions to do works on national projects. He has also had the privilege of holding private exhibitions in the USA.
For now, this is the only Njoroge painting that I have: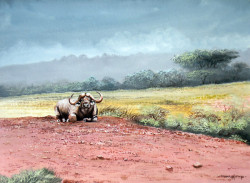 Title: Lone Cape Buffalo
Dimensions: 14.5″ x 11″ (37 x 28cm)
Medium: Acrylic on canvas
Cost: $180
If you are interested in this Daniel Njoroge painting, you can Make an Offer by using the Contact Page or by emailing me at: todd@insideafricanart.com. Or, better yet, go to the Purchasing Page to make a purchase!
Learn more about Making an Offer