As provided by Shine Tani:
"A self taught artist, Shine Tani was born in 1967 in Ngecha Location in Kiambu district. He joined Rironi primary school later in 1977 and did the certificate of primary examination in 1983. In his school life he acted as a teacher he gave instruction to the pupils who had art interest in the class. Art was not taught in school but at home his elder brothers did a lot of drawings and they influenced him much. His parent were poor that they could not afford to educate him farther. He chose to seek for ways of survival, he joined an acrobatic group in the village. It was not easy with the group since he earned very little so at that time he decided to go in the street to fight for life.
For some years he survived as a street boy, his talent was not begging. He quit the streets with shillings 100 that he had begged. At that time he saw paintings hanging on the walls of the Galleries and he decided to develop what he had done in his school life.
Simply put: Artists are created and artists are creative. He learned that he had a talent when he was young and wanted to prove to the world that he surely could express himself through art.
In 1988 he started to be a serious artist. He took some of his paintings at Gallery Watatu. The gallery owner gave material and some money to help him survive for a month. The material were very expensive and he could not afford so he spent some of his time in the street and some times went back to the village. Parents and relatives did not understand what he was doing and they had decided to reject him from the family. Shine being the odd one out tried his best and the press realized the talent of this artist. By offering some pages in the newspaper he received buyers who made his beginning successful.
Shine has been in the art field up and down to the point of traveling and exhibiting his work world wide. He has won prizes both local and international.
His work has been featured in art books, calendars, magazines, world TVs, newspapers, radio, and documentaries. He has entered in world cultural exchange. Shine is the founding member of Banana hill art studio he has been the studio director since 1992. His work has been in the collection of world museums and companies like the Pepsi Cola etc. He has taught many and seen their success in schools, orphanages, and in organization or groups, also individuals. He is inspired by day today life e.g. politics, Christianity, and personal experiences expressing his feelings through art. He use recycled material for both paintings and sculptures, and he also does wood and metal sculptures. He is recently being busy organizing the exhibitions and workshops for the artists inside the studio and outside the studio both locally and international."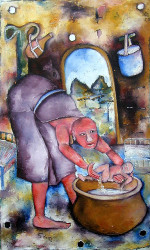 Title: Mother Washing Child
Dimensions: 17.5″ x 28.5″ (44 x 73cm)
Medium: Acrylic on paper
Price: $500
If you are interested in this painting by Shine Tani, you can Make an Offer by using the Contact Page or by emailing me at: todd@insideafricanart.com. Or, better yet, go to the Purchasing Page to make a purchase!
Learn more about Making an Offer