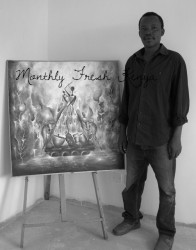 Wamuti was born in 1973 at Kiambaa, Kiambu, a village near the capital city of Nairobi. He joined primary school in 1980. In 1988, he joined high school and immediately got involved in art. In the second year at high school, he was nominated to draw caricatures for the school's magazine of which he was also the editor.
In the two years that followed, he represented the school in two consecutive inter-school painting competitions and won second prize both times. After high school, he took to signboard writing and succeeded by saving enough money to see himself through Computer College. It's after college that he took to art in earnest, by initially doing batik works. In the year 2000, he joined and became member to both Kuona Trust and Banana Hill Art Studio.
In the year 2001, Willie started using oil colors in most of his paintings which are currently on exhibition at the Kenya National Museum gallery, Banana Hill Art Gallery and various other galleries around Nairobi. He has also participated in various other art affairs such as in RaMoMa, Nairobi in 2002.
Title: Hunters
Dimensions: 7.5″ x 12.5″ (19 x 30cm)
Medium: Acrylic on canvas
Price: $140
Title: Perfectly Balanced
Dimensions: 9.25″ x 13.25″ (24 x 33cm)
Medium: Acrylic on canvas
Price: $140
If you are interested in any of Willie Wamuti's paintings, you can Make an Offer by using the Contact Page or by emailing me at: todd@insideafricanart.com. Or, better yet, go to the Purchasing Page to make a purchase!
Learn more about Making an Offer